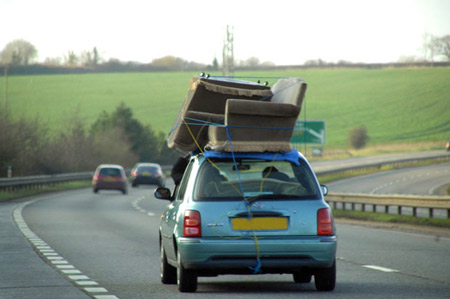 Need to organise a furniture delivery? If need to organise collection and delivery of furniture or other bulky items and you don't fancy strapping everything to the roof of your car, as some do, we have the solution!
Buying furniture from stores like Ikea, or from websites like Ebay is simple, but getting your furniture home or organising safe furniture delivery to a buyer isn't always so easy! Trying to cram furniture into the average car, even when it's nicely flat-packed Ikea furniture, can be quite a task, but if you've just bought or sold a new wardrobe or 3-piece sofa, it's just not going to happen!
You could always rent a self-drive van to collect and deliver the furniture door to door, but then you'll need to find a van that's available, deal with the deposit, insurance and so on, and then drop it back afterwards. Not cheap, and often easier said than done.
Whilst our main business is house clearances in Essex, we also offer a simple collection and delivery service for bulky items like furniture. As long as either the collection or delivery address is in Essex we can collect from or deliver to anywhere in mainland UK. Same day collection and delivery may be possible, depending on locations, availability and when the booking is confirmed.

Whilst loaded on our vans, your goods are fully covered by goods in transit insurance, and will be properly secured to prevent damage. Our delivery drivers usually travel single manned, so loading and unloading assistance is required at both collection and delivery addresses, and it is your responsibility to ensure this is arranged with the buyer/seller.
If the items to be transported are too large or too heavy for one person to load and assistance is not available, our driver will not be able to load or unload the van. For insurance purposes, our collection and furniture delivery services are strictly door to door, and drivers are not responsible for getting furniture into or out of your property.
Essex House Clearances
Contact Tel: 07497 882128